If you like to order a remote control, please follow steps below:
Step 1 - Find the remote control you need (e.g. LG AKB72915244). You can search by name of the remote control or by model of your device. You can also search by categories in the column on the left side on the website.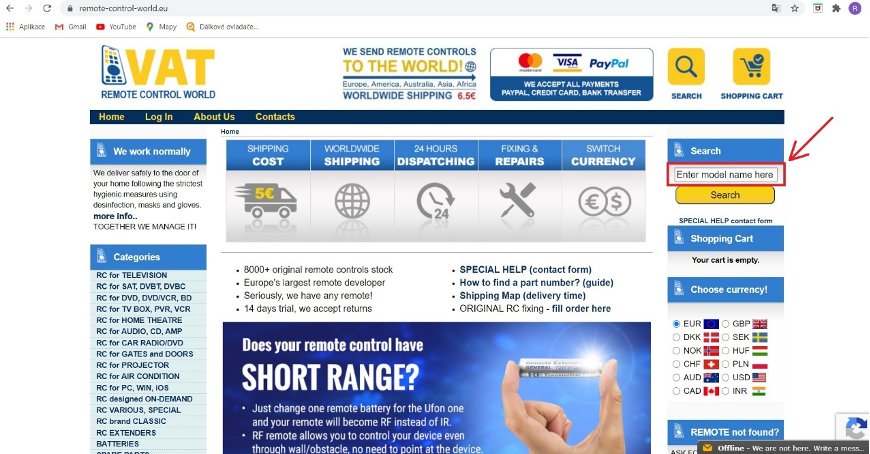 Step 2 - Out of the list choose the remote control you would like to get (e.g. LG AKB72915244 replacement remote control). Click on the name of the chosen remote control.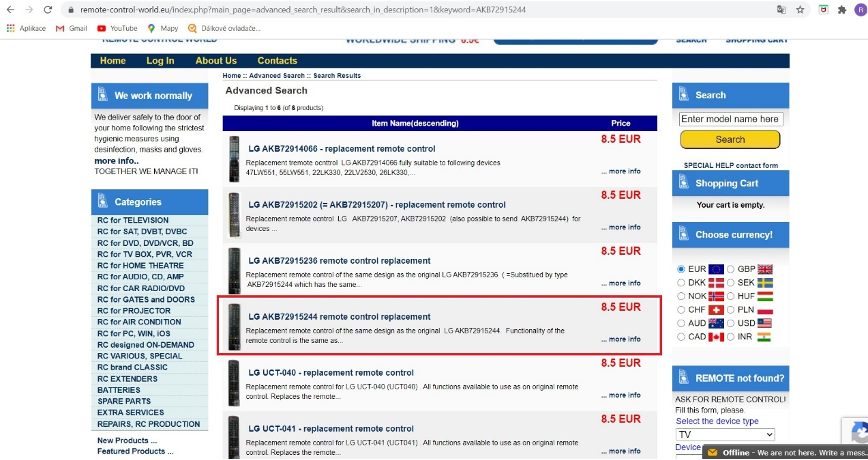 Step 3 - Click on the "Add to cart" button. If you like to get more than 1 piece, please also change number of required pieces.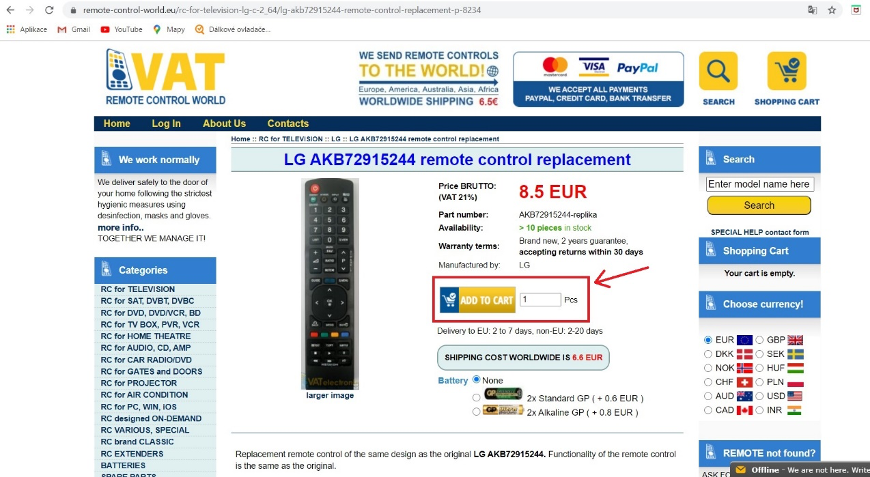 Step 4 - Now you can see your shopping cart (short version of your cart is on the right side of the website). If you like to update quantity, you can change it in this step as well, you just need to confirm this change by clicking on "Update" button.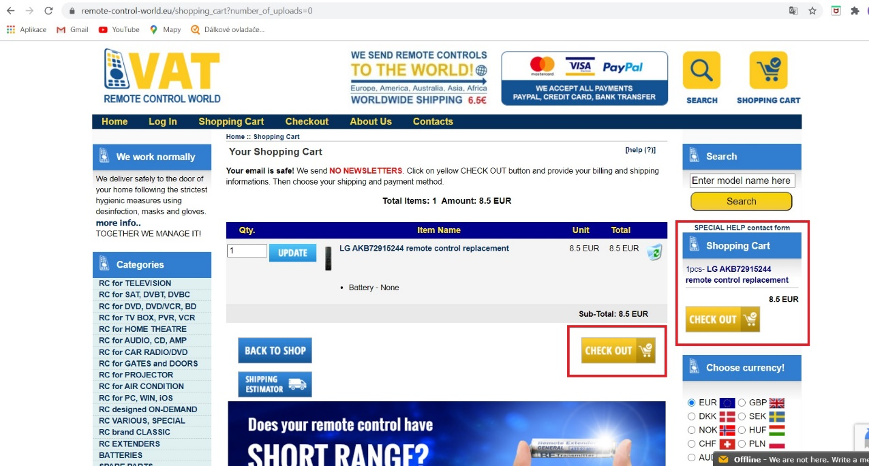 After proper check of your cart please click on "Check out" button.
Step 5 - If you are returning customer with registration, please fill in your email address and password and continue by clicking on "Login" button. If you like to create registration, click on "Sign up" button and fill in needed information (we NEVER send any advertisements via email, we only send information about your order).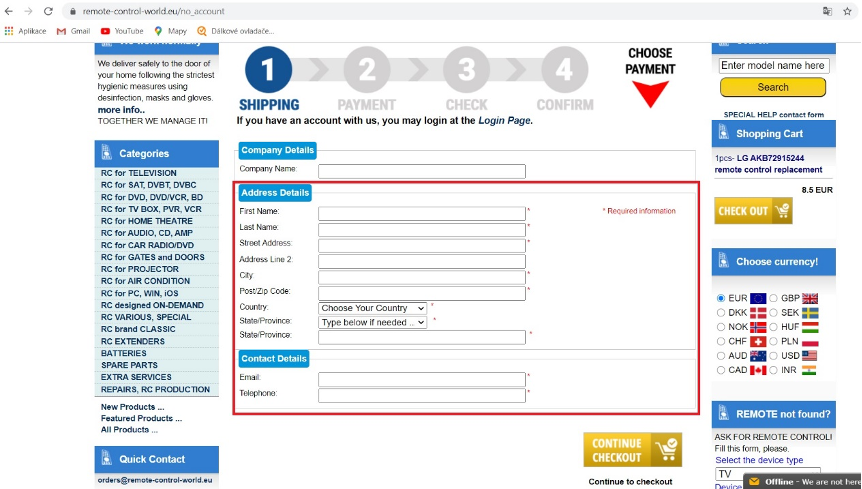 If you like to order without registration click on "Proceed" button. Fill in all required information labelled by * sign. Continue by "Continue checkout" button.
Step 6 - Now please choose shipping method (check shipping map for updates). Standard post is chosen automatically. In this step you can also add comments about your order or delivery.
Then continue by pressing "Continue checkout" button.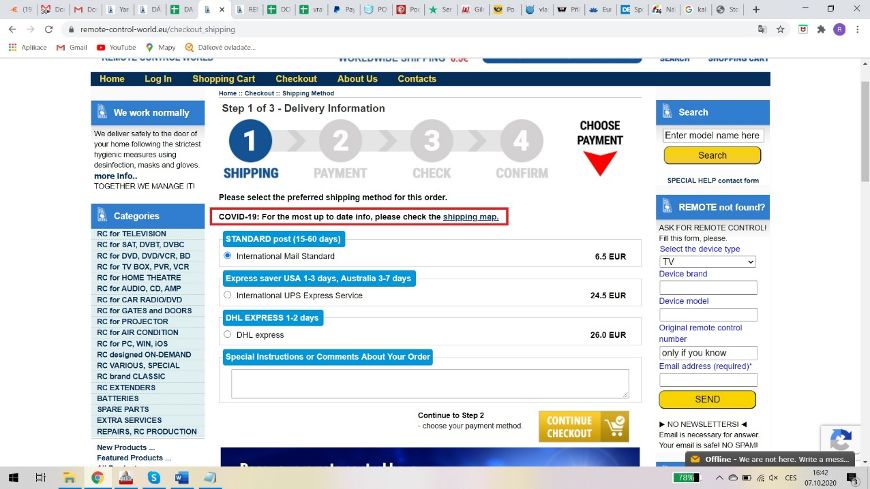 Step 7 - In the next step you have to agree with our "Terms and conditions" by ticking the box. You also need to choose payment method. Please note that bank transfer could be only accepted by EUR currency! Then click on "Continue checkout" button.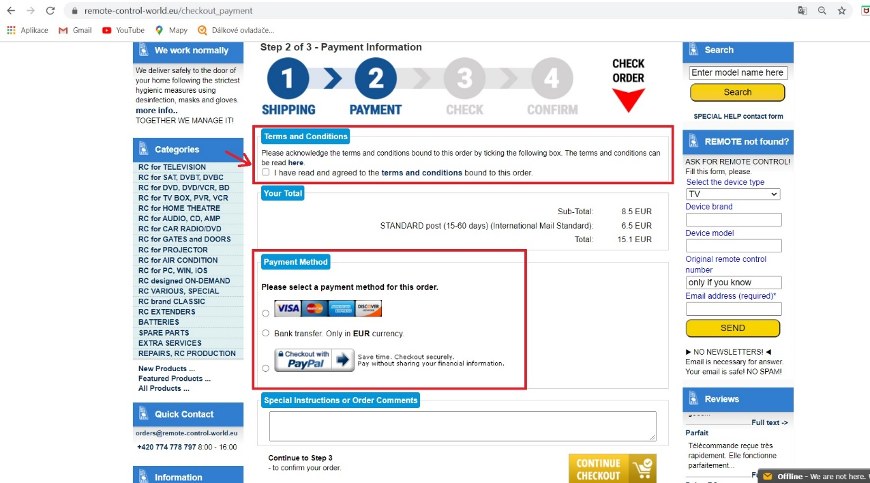 Please note that credit card payment and PayPal will transfer you directly to payment process!
Step 8 - Your order is now nearly complete. Please check your payment and delivery information once again and then click on "Confirm order" button. (NOTE: If you need to change any address, simply edit it at the bottom of the website).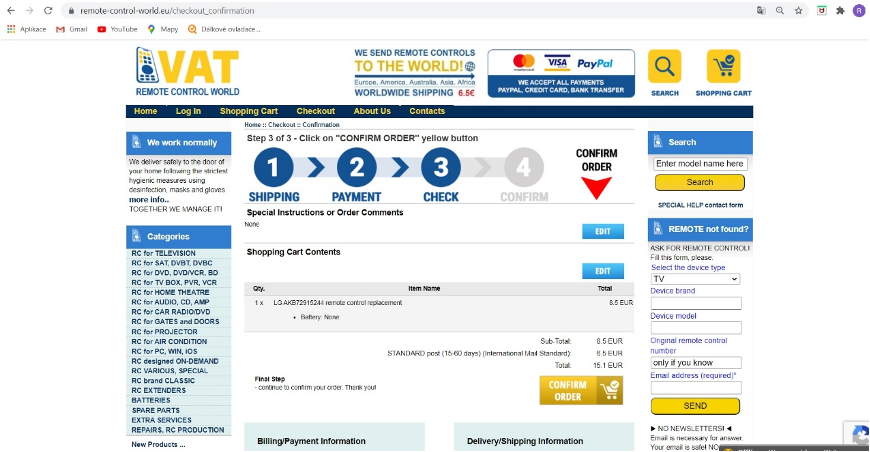 Step 9 - After confirming your order please save the order number in case you need to contact our customer service.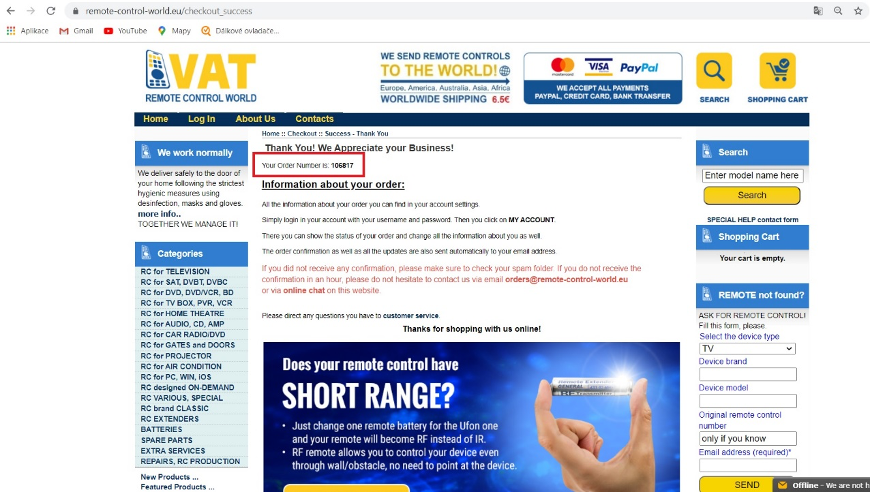 Step 10 - If you have any questions about your order or you need any help with searching the appropriate remote control, do not hesitate to contact us via email orders@remote-control-world.eu or via online chat on the website.