Broken remote control? We allways have a solution.
ABOUT US - SHORT
We are remote control developers from Czech Republic, Europe. We have 9000 RC types in stock including about 3000 of original remote types.
If there is the original remote model available on the market, we have it. If original discontinued, we can produce it. Seriously, we can create a perfect copy of any kind original remote control. Only in 2 days we will progamm each button of your remote control one after one by our own PC programm and we print its button names directly on the RC case. Printing is abrasive resistant. We are developping our database since 2008, we can say now that we know all the existing RC codes.
After the order we ship 100% functioning remote controls. 100% means all the functions of original guaranteed, no programming or setup is needed. Just insert the battery and use it.


ABOUT US - FULL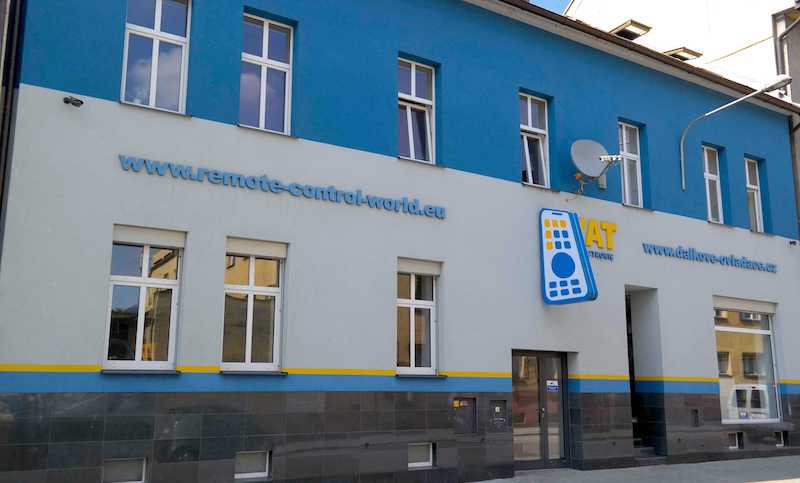 HQ
Our office, development lab, service workshop, dispatch department and warehouse are placed in our own building in Ostrava, Czech Republic. We stock original remote controls here and duplicate remotes as well. But most used solution is our GENERAL DUPLICATE remotes, a 1:1 copy remote of the original remote. We have now 120 000 pieces of remotes in stock.
Ostrava is a city of Colours Of Ostrava music festival. Baron Rothschild's Vitkovice Steel company started production here in 1828 so Ostrava is a most important european city of Industrial revolution in 1800's. After having industrial history Ostrava is the city of remote controls now. Why? Everyday we ship hundreds of remotes to 130 countries around the World. You should visit Ostrava on holidays, maybe with Prague too. It's a very special place. Still reading? Nice. Go on.
It is personal
Really is. Nobody can make a correct choice of dozens thousands of devices. We can. We know everything about remote controls. So please, ask for help. It is our mission to answer and help you. It is the only way to make a best choice for your device. And it is the only way we have. By the way, it is a great feeling, to hear someone cheering "yes, this is the remote, the same as my old one!"
Ask those who know the most about remote controls.
Passion
Not a boss. Our customers are feeding our kids. So we will do our best for resolve your remote control problem. True? It is our passion. We must be better than best because nobody else can. No one else in the world has been decoding and analyzing RC signals every day for more than 10 years. No way out. We love our job. It is great.
Specialist
Jakub and Petra are the best. They will set up remote controls for you and they will also answer your questions at Online chat. Ask them for the best solution. They will help you to make a best choice for you. Personally, one to one. As we said above.
Customer Support and e-shop admin
There are new devices and remote control made every day in the world. Lukáš and Michal keep our RC database actuall and Lukáš is also responsible for Czech customers support. In English you will talk to Petra and Jakub, the Specialists.
Shipping
Matěj and Martina are very productive at warehouse. A thousands of packages they have sent every month since 2008. Sometimes a mistake occurs because we are only people. So our guys will send you the proper package immediatelly. At our expenses of course. Have you not received your package in time? Simply contact us at orders@remote-control-world.eu.
Guarantee
Sometimes things go wrong. It can happen and Jakub and Petra are your partners and they will make you happy again. They will give you helping hand or send you new parcel or money back. Do you want to appreciate us with less than 5 stars? Please don't, first ask for help. A maximum stars reviews are their passion.
Money back
A negative review brokes our hearts. We have shipped aout over 500 000 orders from 2009 to 2019. 6 000 of our satisfied customers gave us 98 % recommendation.
This are our reviews in Czech republic: https://obchody.heureka.cz/dalkove-ovladace-cz/recenze/
And this are abroad: https://www.trustpilot.com/review/www.remote-control-world.eu
We can give you money back (shipping included) but we preffer to find a solution for your problem.
Development
Kate is The RC Queen. Kate, Jacob and Tom made most of thousands programs for our DUPLICATE remote controls. Always precise and concentrated to solve problem. If you will buy a General remote control - you will get her Know-How. She designed it. Completelly. From sketch to prototype and final product. She say her IQ is 150 but she lie we think. It must be over 200. Our team is now developing a remote control with display. One remote control for aircondition (it is ready) and TV/Audio/Video devices (available in 2020) In one piece. It is just beatifull piece with display.
Twenty years of experience
Kate and Jakub were creating a really unique database. It contains thousands of remote controls programs. It has been long process but now we have the biggest and most actual database of remote controls in the world. Industrial revolution - remember? It means Kate and Jakub take ORIGINAL remote and read its IR signal or IC/chip data into their IR protocol analyzer SW (if original RC not available they use service documentation). Button by button. More than 8000 remotes. Then they analyze the RC signal, define its transmitting protocol, setup the RC programm into one file which can be exported and programm this file into our GENERAL remote control. So you will get always 100 % functions of the ORIGINAL remote control even it is almost twenty years old, exotic or rare. We are proud of this solution. We have a solution for all RC types thanks to our development.
Export
It is crazy. We help people in USA, Australia, Great Britain, India, Germany, Russia, Sweden, Finland and more. We found out there are 195 countries in the World. We ship to most of them. From Albania to Zambia. It is almost 85 % of the World. Isn't it crazy?
We send the remote in bubble envelope so the postage is cheap only about 5 EUR/5,5USD worldwide.
Custom made RC
We do our best. But this one is better than the best. We can replace EVERY remote control ever made. Oh, General RC can. GENERAL is a perfect solution for most remotes which were discontinued. It is our baby. We can configure GENERAL to control up to 4 or 6 devices. We can customize and print its button names to be the same as original RC button names. Go to live chat and just tell to Jakub what device do you want to control. By the way. GENERAL can control everything. GENERAL controls. See that joke? We are still laughing about GENERAL's name :-) HA HA :-) But, please, don't tell him. He doesn't like that joke…
Go to reviews or just ask our specialist - chat window at right bottom corner.
History
VAT Electronic, ltd., started in 1991 by Ing. Jaromír Nárožný (Faculty of Electrical Engineering at Brno University of Technology) the best Ostrava's TV repairmen. His doughter Bc. Kateřina Nárožná (Kulhánková) (Faculty of Electrical Engineering and Informatics, VŠB-TUO) also repair TV for some time, but now she only dedicates her effort to developing and design remote controls and she leads the company since 2000 until today.